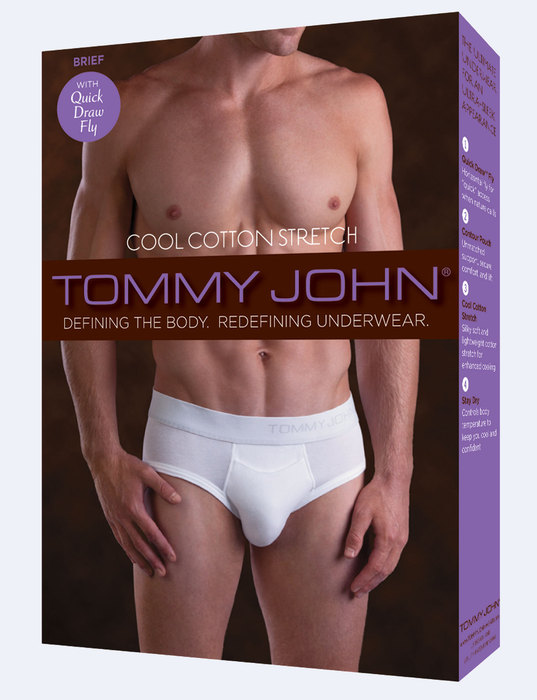 Product Description:
Featherlight, smart cotton fabric keeps you cool & dry
Contour pouch eliminates having to "re-adjust"
Horizontal Quick Draw™ Fly for "quick" access
Stay Put waistband won't roll down or leave marks
So comfortable that you forget you're wearing anything
I really never gave it much thought as to the comfort and feel of my underwear until I tried these on. They blow away the other brand I have been wearing for years.

-Danny D, Capo Beach CA
The horizontal fly is definitely the best for quick in and out. I can't believe other brands aren't going that way.

-Mark S, Bloomington IL
NEW! Introducing Cool Cotton! Perfect for the Spring and Summer months or for those who prefer a cotton-based alternative to our Second Skin line. This featherlight fabric is silky soft and cool to the touch. Wearing it is pure luxury.
Tommy John underwear is redefining the men's underwear category. The comfort of stretch cotton with the innovation of our Quick Draw™ Fly, has set the new standard in the men's category for the ultimate underwear experience.
Our Cool Cotton briefs are quite possibly the most comfortable and functional underwear on earth.
Supremely comfortable due to our stretch fabric technology
Super-soft waistband won't leave marks and ensures underwear stays in place
Our Horizontal Quick Draw Fly saves you valuable time while "going"
Keeps you cool and dry
Will not shrink and will not pill
Fabric: 86% Cotton, 14% Spandex Learn More
Fabric:
Cool Cotton
Moisture-wicking, anti-odor performance fabric
360 Degree Stretch Fabric
84% Polyester, 16% Spandex
Problem: Performance underwear rides up your legs when you move. This is due to the fact that they use 2 way and 4 way stretch. This type of fabric doesn't stretch in all directions during movement, which is why it causes your underwear to rideup your legs.
What we did: Instead of endorsing a celebrity or an paying for an expensive billboard in Times Square, we actually invested time and money in searching the globe for a 360 Degree Polyester Stretch (performance) fabric that prevents this problem from happening.
The 360 fabric we use is designed to move with you, while staying in place. It is also moisture wicking with anti-odor properties.
What this means to you: Tommy John's performance underwear doesn't ride up your leg. The unique 360 Degree Polyester Stretch (performance) fabric stretches. in all 360 degrees that your body moves during activity to solve another problem we feel existed in the underwear market.
Softest cotton fabric you will ever wear
Dries 4-5x faster than other brands
86% Pima Cotton, 14% Spandex
History: Cotton is the most prevalent fiber in the world and is renowned for its breathability, strength and versatility.
Most of the men's undergarment market uses only 100% cotton material. This is a strategy we believe to be deeply flawed. We begin with cotton, but also add stretch to the fabric for shape retention.
Problem: Traditional cotton undergarments tend to shrink up to a size smaller than you are, stick to the skin, cause you to overheat and sag when wet due to the weight of the fabric. They also stretch out over time, which cause an "A-frame" or "tented" appearance. It's just a matter of time before these type of undergarments become rags for washing your car.
What we did: We found a super lightweight and smart fabric technology that uses a special cooling process to increase the absorption capacity of the fabric. Moisture is then transferred to the surface of the fabric where it easily and rapidly evaporates.
The non-pilling feature ensures garments retain softness and smoothness with NO PILLING; wash after wash.
What this means to you: Our Cool Cotton underwear remains as silky smooth as the day you bought them and keeps you cooler and drier than your traditional undergarments.
Wash after wash, your garment stays looking good as new, allowing you to continue wearing it for a very long time. Yes, this cooling technology is pretty awesome stuff!
The softest fabric on the planet
Anti-Pilling Micro Modal fabric
90% Non-Pilling Micro Modal, 10% Spandex
Micro Modal is resistant to shrinkage and fading. Because we add stretch to the fabric for shape retention, the final product is not considered a 100% natural product.
History: Micro Modal,the world's softest fiber, it makes textiles naturally more beautiful. Micro Modal fabric is feather-light and feels like a second skin on your body. The fiber is made from beech wood, a natural raw material. The natural softener makes Modal fabrics pleasant to the touch, even after repeated washing.
Problem: If you have worn modal products before, you know the problem is that they "pill" very quickly and look older, faster.
What we did: We are proud to use a revolutionary, non-pilling micro modal fabric that ensures garments retain softness and smoothness with NO PILLING; wash after wash.
What this means to you: Tommy John micro modal underwear remains as softly smooth as the day you bought them. The non-pilling fabric finishing process cleans away the fuzzy surface fibers that eventually cause pilling.
Wash after wash, your garment stays looking good as new, allowing you to continue wearing it for
a very long time. No more pilling is pretty awesome.
Other Information
Our Guarantee
100% satisfaction is guaranteed for first time customers, or you will recieve a full refund. Read more about our guarantee
---
Customer Care
Need assistance? Call or email our Customer Service Representatives at 1-800-708-3490 or cs@tommyjohnwear.com
Features
Quick Draw™ Fly
Horizontal fly for "quick" access when nature calls
Contour Pouch
Unmatched support, secure comfort, and lift
Cool Cotton Feel
Silky soft and lightweight cotton blend for enhanced comfort and feel
Stay Dry
Controls body temperature to keep you cool and confident
STAY PUT WAISTBAND
Stays put and won't roll down
Reviews for Cool Cotton Brief
---
Dave O
Height:
5'10"
Weight:
230 lbs.
Chest:
43"
Waist:
40"
Size:
Large
Love My Tommy Johns!
These are the most comfortable briefs I've ever worn. I started with three pair and have re-ordered twice. They are light, airy, and feel very good.
Jeff G
Height:
5'8"
Weight:
180 lbs.
Chest:
38"
Waist:
34"
Size:
Medium
GREAT underwear!!
I didn't think the different design of the fly would make such a difference but it really does! These underwear fit great, feel great and the fly is a revolution in men's underwear. I don't think I'll ever buy a different brand unless other companies adopt this fly.
Stephen F
Height:
6'1"
Weight:
170 lbs.
Chest:
42"
Waist:
38"
Size:
Large
size is the problem
These briefs would be very comfortable BUT the Large I usually order is too small and the X-Large is too big. The Large thus rides up on my butt and the x-Large is just too floppy. With a 38 waist, I fall right between two levels in Tommy Johns.
I will not be ordering any more.
Dale H
Height:
5'9"
Weight:
202 lbs.
Chest:
48"
Waist:
31"
Size:
Medium
A Tighty Whitey for a New Generation!
Wow, what comfortable briefs. Great fabric that keeps me cool, holds it's shape and form fit without sagging like tradition tighty whities. Wish they came in more colors like the second skin briefs.
Gram M
Height:
6'1"
Weight:
210 lbs.
Chest:
44"
Waist:
36"
Size:
Large
Comfortable design
Comfortable design, Quick draw fly super convenient, after wearing other underwear, I always pull down to access yet with these, I can quickly access through the fly. Sometimes when aroused, my unit seeks naturally opening. If I hadn't also ordered "second skin", these would be best of all time but as pricing is similar, the second skin material is more comfortable..
---
---
---