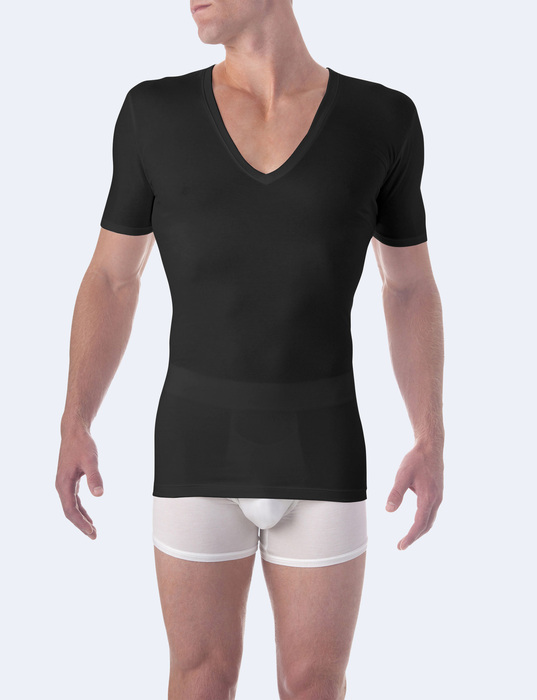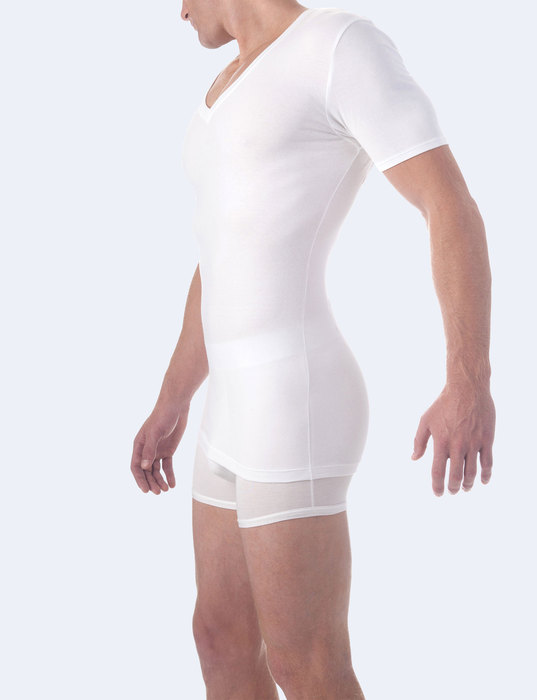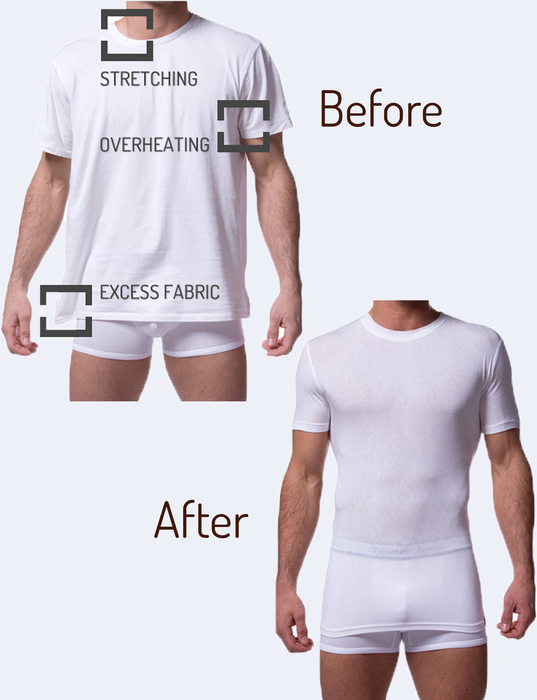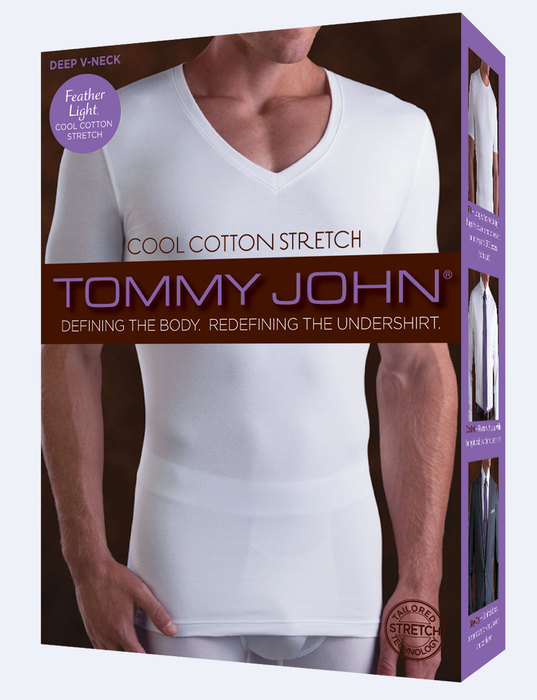 Cool Cotton Deep Vneck Stay Tucked
Cool Cotton
|
(22 reviews)
Product Description:
Stays tucked in, guaranteed. (How?)
Eliminates EFG (Say What?)
Made for ALL body types
Featherlight, smart cotton fabric keeps you cool & dry
Streamlined fit makes outerwear look better
Super-comfortable (fitted but never restrictive to wear)
Deep Vneck is invisible with 2-3 buttons open
I can easily go a full work day without having to re-tuck the Tommy John shirt.

-Michael W, Chicago IL
It's worth every cent as this shirt delivers as promised.

-Dan M
Introducing NEW Cool Cotton! Perfect for the Spring and Summer months or for those who prefer a cotton-based alternative to our Second Skin line. This featherlight fabric is silky soft and cool to the touch. Wearing it is pure luxury.
This undershirt is the ultimate replacement to your current "box cut" short sleeve undershirts that give you EFG "excess fabric gut" and BMT "billowy muffin top."
Once you pull this undershirt down, it will stay in place by hugging your lower body. It will not ride up, bunch up, or come untucked. You'll wonder how you ever lived without this undershirt. Vneck is deeper to ensure it's never seen.
Won't come untucked
Improves the appearance of your outerwear
Super-comfortable (not a Compression Fit and definitely not Shapewear)
Does not add the bulk of a typical undershirt
Made for all body types
Will not shrink and will not pill
Fabric: 86% Cotton, 14% Spandex Learn More
Sizing Info: Your correct size will be determined by your chest size.
Fabric:
Cool Cotton
Moisture-wicking, anti-odor performance fabric
360 Degree Stretch Fabric
84% Polyester, 16% Spandex
Problem: Performance underwear rides up your legs when you move. This is due to the fact that they use 2 way and 4 way stretch. This type of fabric doesn't stretch in all directions during movement, which is why it causes your underwear to rideup your legs.
What we did: Instead of endorsing a celebrity or an paying for an expensive billboard in Times Square, we actually invested time and money in searching the globe for a 360 Degree Polyester Stretch (performance) fabric that prevents this problem from happening.
The 360 fabric we use is designed to move with you, while staying in place. It is also moisture wicking with anti-odor properties.
What this means to you: Tommy John's performance underwear doesn't ride up your leg. The unique 360 Degree Polyester Stretch (performance) fabric stretches. in all 360 degrees that your body moves during activity to solve another problem we feel existed in the underwear market.
Softest cotton fabric you will ever wear
Dries 4-5x faster than other brands
86% Pima Cotton, 14% Spandex
History: Cotton is the most prevalent fiber in the world and is renowned for its breathability, strength and versatility.
Most of the men's undergarment market uses only 100% cotton material. This is a strategy we believe to be deeply flawed. We begin with cotton, but also add stretch to the fabric for shape retention.
Problem: Traditional cotton undergarments tend to shrink up to a size smaller than you are, stick to the skin, cause you to overheat and sag when wet due to the weight of the fabric. They also stretch out over time, which cause an "A-frame" or "tented" appearance. It's just a matter of time before these type of undergarments become rags for washing your car.
What we did: We found a super lightweight and smart fabric technology that uses a special cooling process to increase the absorption capacity of the fabric. Moisture is then transferred to the surface of the fabric where it easily and rapidly evaporates.
The non-pilling feature ensures garments retain softness and smoothness with NO PILLING; wash after wash.
What this means to you: Our Cool Cotton underwear remains as silky smooth as the day you bought them and keeps you cooler and drier than your traditional undergarments.
Wash after wash, your garment stays looking good as new, allowing you to continue wearing it for a very long time. Yes, this cooling technology is pretty awesome stuff!
The softest fabric on the planet
Anti-Pilling Micro Modal fabric
90% Non-Pilling Micro Modal, 10% Spandex
Micro Modal is resistant to shrinkage and fading. Because we add stretch to the fabric for shape retention, the final product is not considered a 100% natural product.
History: Micro Modal,the world's softest fiber, it makes textiles naturally more beautiful. Micro Modal fabric is feather-light and feels like a second skin on your body. The fiber is made from beech wood, a natural raw material. The natural softener makes Modal fabrics pleasant to the touch, even after repeated washing.
Problem: If you have worn modal products before, you know the problem is that they "pill" very quickly and look older, faster.
What we did: We are proud to use a revolutionary, non-pilling micro modal fabric that ensures garments retain softness and smoothness with NO PILLING; wash after wash.
What this means to you: Tommy John micro modal underwear remains as softly smooth as the day you bought them. The non-pilling fabric finishing process cleans away the fuzzy surface fibers that eventually cause pilling.
Wash after wash, your garment stays looking good as new, allowing you to continue wearing it for
a very long time. No more pilling is pretty awesome.
Other Information
Our Guarantee
100% satisfaction is guaranteed for first time customers, or you will recieve a full refund. Read more about our guarantee
---
Customer Care
Need assistance? Call or email our Customer Service Representatives at 1-800-708-3490 or cs@tommyjohnwear.com
Features
Fit
For all body types from average shape to athletic cut torsos
Cool Cotton Feel
Silky soft and lightweight cotton blend for enhanced comfort and feel
Streamlines
Gives you a tailored and form fitting look
Control
Moves with you, while being invisible under outershirts
Stay Dry
Controls body temperature to keep you cool and confident
Memory Collar
Prevents bacon neck appearance
Tag-Free
Tagless label for maximized comfort
Reviews for Cool Cotton Deep Vneck Stay Tucked
---
Dean M
Height:
5'10"
Weight:
155 lbs.
Chest:
38"
Waist:
31"
Size:
Small
Fantastic Tee
I've never had a T-Shirt like this! Really love the deep V-Neck - the shirt goes unnoticed which is exactly what I wanted. Gotta get more!
Erik E
Height:
6'5"
Weight:
215 lbs.
Chest:
46"
Waist:
38"
Size:
Extra Large
Exceptional performance
I feel fantastic when wearing this undershirt. Performance is truly better than advertised in my experience.
Alas, the cost is a deterrent regardless of its superior performance. Hard to justify the asking price for an undergarment.
Steven L
Height:
6'1"
Weight:
220 lbs.
Chest:
44"
Waist:
37"
Size:
Extra Large
My all time favorite tee shirts
This is by far the best tee I have ever had. It fits snuggly but well, stays in place all day, allows me to keep my top 2 buttons open without tee show-through, and feels great! I particularly like the deeper V, and perhaps because I am taller it seems to sit in a great place on me. I have had mine for 3 months, and it is holding up very well! Highly recommended!
Joel F
Height:
5'1"
Weight:
220 lbs.
Chest:
35"
Waist:
28"
Size:
Extra Large
Waiting for years to find a t-shirt like this one
I am surprised by the reviewers who said the V-neck was too deep...that is exactly the feature I like most about these T-shirts. (The person who said it reached almost to his belly button must have a strange and unusual anatomy indeed.) What a pleasure not to keep poking the white out of sight when I do not wear a tie,
I first ordered one of the cotton and one of the second skin to see which I liked best. The cotton definitely wins and I just ordered five more so that I will now have one for every day of the week
Paul F
Height:
6'1"
Weight:
155 lbs.
Chest:
38"
Waist:
31"
Size:
Medium
Beware the Depth of the Deep V
I have enjoyed the Crew Neck Second Skin under my suit shirts, and thought I would order and try the V-Neck Second Skin for under my sport shirts and open collar shirts. Looking at the photos, it seemed the Deep V-Neck would be perfect for wearing with a shirt with one or two buttons open.
Wrong. The photos were misleading. The Deep V-Neck plunges way down, beyond my nipple line. It has a huge scoop larger than any tank top I've worn. The description for the shirt says "Deep Vneck is invisible with 2-3 buttons open." The truth is that it is invisible to 4 or maybe even 5 buttons. I could wear my shirt about half open and the Deep V-neck wouldn't show.
The pictures & description need to be corrected. I feel frustrated and misled.
---
---
---