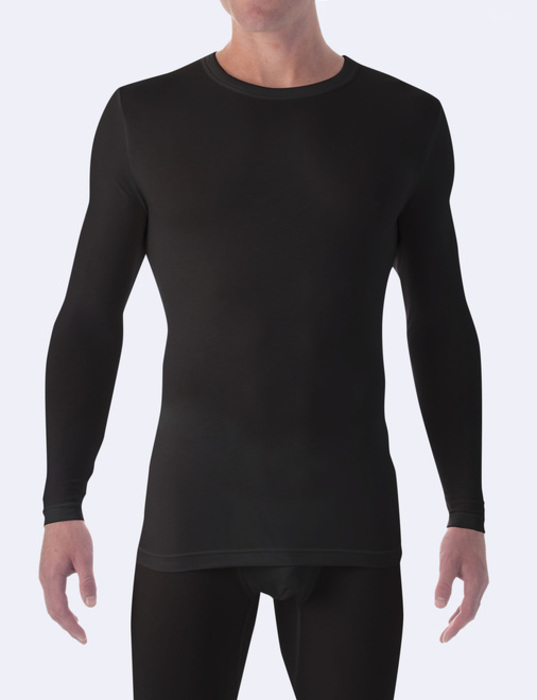 SleekHeat™ Long John Top
SleekHeat
Product Description:
The long underwear for professionals
Provides a sleek silhouette as your base layer
Lightweight, luxurious fabric absorbs body moisture and converts it into warmth
Thin enough to wear under any attire
Super warm outdoors, temperature-controlled indoors
Fabric:
SleekHeat
Keeps you warm when needed
Looks streamlined under clothes
57% Polyester, 37% Rayon, 6% Spandex
Problem: You shouldn't need 12 layers to keep you warm in the winter. The majority of the thermal underwear on the market stretches out, shrinks, lacks a functional fly, and absorbs moisture.
What we did: We searched the globe for a manufacturing partner that could create high tech fabric that keeps you warm and dry, while keeping everything on the outside streamlined.
The thin and lightweight fabric (SleekHeat™) absorbs body moisture and converts it into heat, which keeps you warm.
Thin enough to wear under any pair of pants or top. Designed to maintain a sleek appearance by moving with (and not against) you.
What this means to you: Tommy John's performance underwear doesn't ride up your leg. The unique 360 Degree Polyester Stretch (performance) fabric stretches. in all directions your body moves during activity. What you'll find with our performance underwear is that when it moves with you, it doesn't ride or bunch up!
Wear to the office, wear to the gym, or for a night out on the town when it's colder than a mother. We provide a functional foundation that helps you look and feel great.
Other Information
Our Guarantee
100% satisfaction is guaranteed for first time customers, or you will recieve a full refund. Read more about our guarantee
---
Customer Care
Need assistance? Call or email our Customer Service Representatives at 1-800-708-3490 or cs@tommyjohnwear.com
Features
STREAMLINES
Gives you a tailored and form fitting look
PROFESSIONAL APPROVED
Designed to work with professional attire
RANGE OF MOTION
Moves with you and not against you. Non-restrictive to wear.
Reviews for SleekHeat™ Long John Top
---
---
---
---