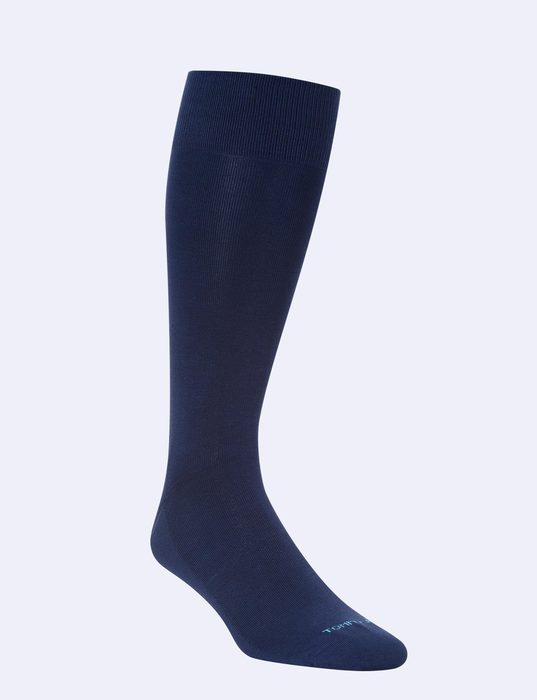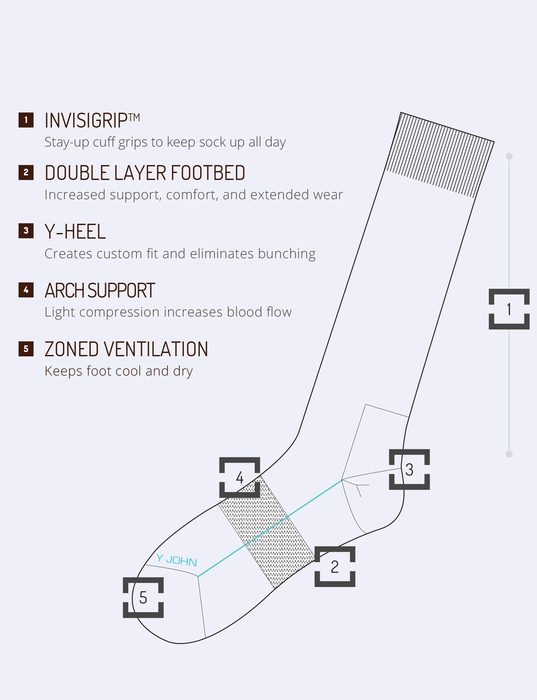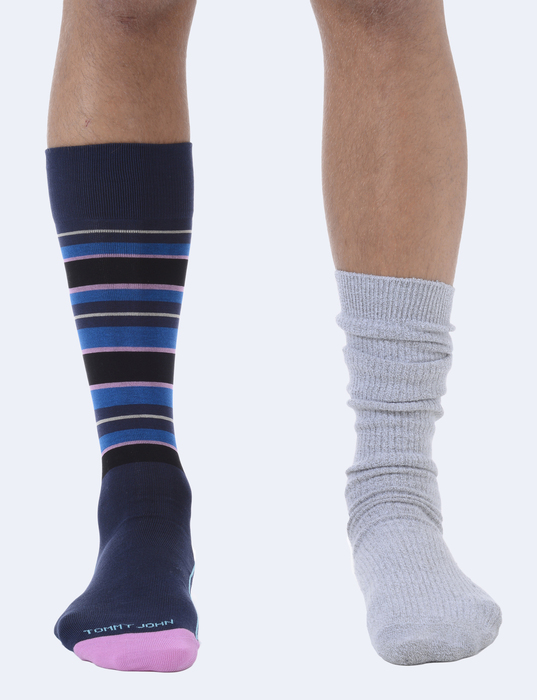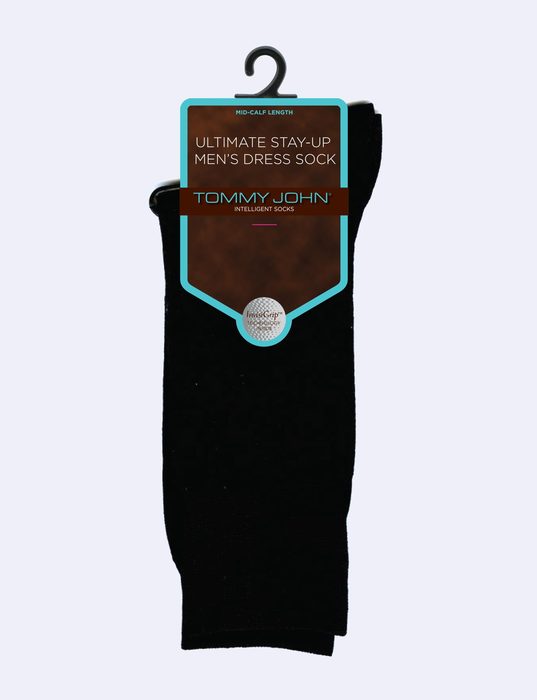 Ultimate Stay-Up Solid Mid-Calf Dress Socks
|
(8 reviews)
Product Description:
InvisiGrip™ Technology gives sock best chance of staying up
Double Layer Footbed provides increase support, comfort, and extended wear
Y-Heel eliminates bunching
Arch Support provides light compression and increases blood flow
Mid-calf length provides optimal length for comfort and function
Sold as a pair
SOCKS
We believe this is the best sock your feet will ever meet.
80% Mercerized Cotton, 15% Nylon, 5% Spandex
Why we created our socks: Our Ultimate Stay-Up Men's Dress Socks were created to address the constant frustration of having to pull up our socks throughout the day.
Reinvented, using InvisiGrip™ Technology, our socks function like no other socks have before.
Other Information
Our Guarantee
100% satisfaction is guaranteed for first time customers, or you will recieve a full refund. Read more about our guarantee
---
Customer Care
Need assistance? Call or email our Customer Service Representatives at 1-800-708-3490 or cs@tommyjohnwear.com
Features
InvisiGrip™ Technology
Stay up cuff and unique design system grips to keep sock up all day
Double Layer Footbed
Increased support, comfort, and extended wear
Y-Heel
Creates custom fit and eliminates bunching
Arch Support
Performance feature provides light compression and increases blood flow
Reviews for Ultimate Stay-Up Solid Mid-Calf Dress Socks
---
George G
Height:
6'1"
Weight:
250 lbs.
Chest:
48"
Waist:
43"
Size:
Extra Large
Not worth it.......
I purchased the socks specifically because they supposedly stayed up. They didn't. In fact, it seemed to me that they slid and bunched up easier than regular socks. These socks are definitely not worth purchasing.
Marcus V
Height:
5'9"
Weight:
185 lbs.
Chest:
44"
Waist:
34"
Size:
Medium
Size issues
One thing I've learned from military service and having to pass uniform inspections for cleanliness and fit is: SOCK SIZES ARE DIFFERENT FROM SHOE SIZES.
In the United Kingdom, a sock's size is similar to the person's shoe size; for example, a foot that has a shoe size of 9 would require a sock sized 8-10. In some other parts of the world socks are sized differently than shoes. In the U.S. numerical sock size is the length of the foot in inches, whereas shoe size is not.
With a 10.5" foot I wear a US size 9 (Eur 42) shoe. I've had issues with socks in general because the most common men's size sold is 10-13 (remember: inches). The Gold Toe company correlates men's sock size 10-13 to men's SHOE sizes 6 to 12-1/2 (quite a range!). Invariably I get the bunching up problem reported in the previous reviews. To combat this, I've always searched (with little success) for men's socks in the RARE size 9-11.
I don't yet own a pair of Tommy John socks; I'm hesitant to buy a pair of socks with a "Y-heel" could fit on a 13" foot...
Mason F
Height:
5'10"
Weight:
179 lbs.
Chest:
43"
Waist:
34"
Size:
Small
Best Sock My Feet have ever felt
I just read the negative comments on these socks and happened to receive an email from the actual founder of Tommy John that addressed my footbed and length questions. After I read and learned this, I had no problems with these socks and they exceeded my expectations (which were already high since I love their underwear so much). The compression band on the arch is genius. Reminds me of my running socks.
I am will gradually change over since I have some other socks that are also new so need to cycle thru. Please make more colors
Max R
Height:
5'7"
Weight:
175 lbs.
Chest:
35"
Waist:
28"
Size:
Medium
Poor value for money
1) Bought medium size (8-12) - "one size fits most" is correct as I fall right in the middle with 10 size and socks are too long from toe to heel. This leaves an unsavory looking "bunch up" in the back of the foot.
2) Socks stay up just as well as any others I wore so no advantage their.
Conclusion: Socks that cost $23 should be much better than this!
George G
Height:
5'10"
Weight:
185 lbs.
Chest:
44"
Waist:
33"
Size:
Large
Socks Need An Instruction Manual?
I bought three socks ... I like the material and generally like all TJ products ... but I have issues with the socks.
I have a size 11.5-12 foot and the material bunches between the toe and heel ...as one reviewer said they are not sized properly. Other issue is that when stretched out on foot, color swatch on heel is visible over top of heel on my dress shoes ... another non-no. Funny that TJ is telling us how to wear socks properly after we have been wearing them for 50 years ... and they have been making them for 5 weeks. didn't know that socks needed an instruction manual ...
---
---
---